¡Time to visit the magic Casa Batllo of Gaudi without doing queues!
Here we go, pay attention and enjoy.
Today we will show you up some secrets and how to skip the line to get into one of our favourite buildings in Barcelona, the emblematic Casa Batlló!
Casa Batlló is a building of the architect Antoni Gaudí, maximum representative of the Catalan modernism in the architecture.
The building is located in the so-called "block of discord", the name is attributed to it as it is the only one that is formed by several buildings of modernist architects such as Lluís Domènech i Montaner or Josep Puig i Cadafalch.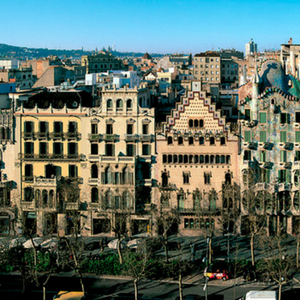 Casa Batlló was built between 1904 and 1906 by order of Josep Batlló i Casanovas an entrepreneur of the time married to Amàlia Godó, belonging to the family of the Count of Godó, owners of the newspaper La Vanguardia.
Gaudí endowed the Casa Batlló with an original and fantastic facade that some have interpreted symbolically with the legend of St. George, when he fought with the dragon, so that the roof would be the backbone of the dragon and the cross of four arms represents the sword that the knight nailed to the creature.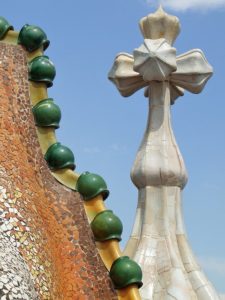 ¿Do you want to know a secret that only the Barcelonans know?
Casa Batlló in our city is also called the house of bones, the house of the masks and even the house of the dragon.
Now you know how to infiltrate between the citizens of Barcelona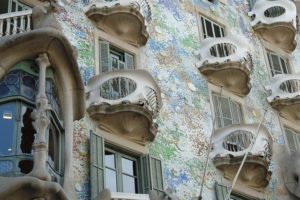 But…getting a bit serious Hostaliners, if you finally decide to visit it, which we do not doubt, you can visit one of the apartments of the building although the most characteristic rooms you will see are the rooms on the upper floors and the roof with chimneys typical of the architect.
(Pic of chimney)
Casa BAtllo Visiting hours  are from 9am to 9pm every day of the year and the visit lasts approximately one hour.
Casa Batllo Ticket prices are:
Children up to 7 years: Free
Juniors between 7 and 18 years: € 20.5
Students with a credit card: € 20.5
For adults over 18 years: € 23.5
Seniors over 65 years 20,5 €
Residents of the province of Barcelona: € 15
You can buy the

Casa Batllo tickets online here

and avoid the long queues that daily flood the entrance of the building.
To get there from Hostalin (GRACIA), you only have to go down Paseo de Gracia until you reach Aragón Street, which will take about 7 minutes by feet until you find yourself in front of the magnificent Casa Batlló.
Now, ¡It's time to enjoy!
If you would like us to talk about a specific museum in Barcelona or Madrid  that is of your interest do not hesitate & leave us your comments.
Do not forget to tell us your experiences through Facebook, Twitter and Instagram with the hashtag:
#Hostaliners