The best places to take pics in Madrid
Traveling means exploring, discovering and living. And we love sharing and remembering it. Traveling is an experience full of dopamine, which awakens all the senses. However, the only sense that can really capture what we live and even share it live is the view. And all 2.0 travelers want to share your photos on social networks. So if you are one of those who want to petarla on Instagram or leave your friends speechless for your photons we advise you to write down these 5 sites in Madrid to take the best photos.
1_ Egipt in Madrid 
Impressive the Temple of Debod of the II century a. C was brought stone by stone from Egypt to Madrid. A temple donated by the Egyptian government in 1972, a donation intended to save the temple of self-denial by the construction of the well-known Asuan dam.
The Temple of Debod in Madrid is located next to Parque del Oeste, just west of Plaza España on the old hill of the mountain barracks. In fact, it still retains its genuine orientation from west to east.
The perfect place to take the best pictures of the fall of the sun, sunset in Madrid is at the  Debod Temple.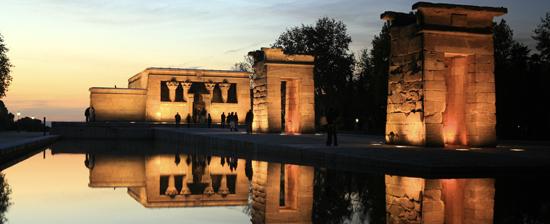 2_ Stroking the sky of Madrid
Incredible terrace on the building of the Circle of Fine Arts. In it you will be surprised by the menu, the chillout area, the relaxed and youthful atmosphere, but above all the views.
It is undoubtedly one of the most recommended terraces to take pictures of the center of Madrid from the heights. Photos of the sky caressing the attractive Metropolis building.
Instagraming your appetizers at sunset, photograph the bustling city, but in a relaxed mood between Mediterranean dishes and refreshing with a simple drink, all is possible on this terrace.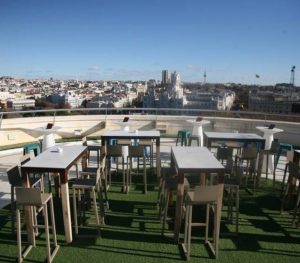 3_ StreetArt in Madrid
Yes, you are a lover of street art, if you think that the murals are key to giving life and message to the walls, that their shapes and colors are the best formula to evade the gray cement of the streets, this place is going to love.
It is a blue facade full of eyes that observe with delight each of the passers-by. Undoubtedly, the TOM PAI store and, especially, its façade has become a benchmark among intagramers. Everyone goes through here to take their most colorful and modern photo. In fact, it all started with the photo of one of Spain's best-known instagramers
.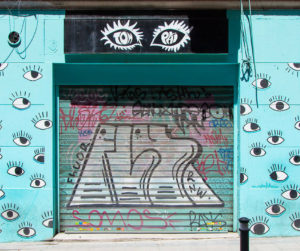 4_ Western in Madrid
If you are a traveler wanting to feel Clint Eastwood or to make all your friends believe that you have been shooting a western this is your destination. Desert City, an experimental botanical garden with more than 5000m2 that has more than 400 species of cactus for sale. But there is not only cactus, you have native plants of Madrid and other curious and striking species.
Taking photos in this garden in Madrid is quite an experience.
Take your camera, your mobile, activate your Instagram and head to San Sebastián de los Reyes.
5_ Life is color in Madrid
f you are a lover of markets, color and the avant-garde here you have to take the photos with more vibration of your entire trip. It is one of the favorite destinations of the local people of Madrid, the cool people of Madrid come to the old Mercado de la Cebada to discover the great coexistence between traditional shops and the popups of avant-garde designers, to share terrace and tapas with friends.
This market has been closed for many years, but its curious construction with colored domes and its external structure filled with naïf mosaics make it the meeting point for lovers of the arts, street life and good living. In addition, on Sunday mornings it is highly attended because all kinds of musicians and artists stop in their surroundings to delight visitors; local and foreign.
The market of La Cebada is located in the famous neighborhood of La Latina.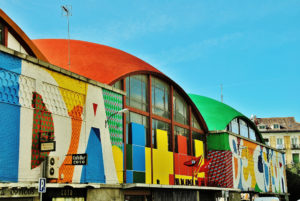 Now we have told you the 5 best places to take photos in Madrid, so we hope you enjoy your trip, that you get drunk with the Madrid experience and that, of course, you tag us in one of your Instagram photos. #HostalinTheCIty.