Looking for an awesome flea market? Barcelona and Madrid have many options.
You are a lover of flea markets, a true treasure hunter and you like to stir, browse among lots of vintage clothes, crafts, jewelry,  unusual things and antiques then you will love our list of the best markets in Barcelona and Madrid.
Both Madrid and Barcelona have hundreds of markets and quoting them all is very impossible, so we are going to leave you a list of the best.
Barcelona Flea-Market
ELS ENCANTS
The quintessential flea market in Barcelona and even one of the oldest in Europe. It is popularly known as Els encants, although its official name is Mercat Fira de Bellcaire.
Although it is one of the oldest less than 5 years ago it has its current location. In fact, its new location next to the Plaza de "Les Glòries" in the Sud area is called "El bosquet del Encants" (the grove of the Encantes).
Now they have a much more avant-garde look, given that it is outdoors but covered by a fascinating architectural work that allows the entry of natural light, is more multiplied with its mirrors on the ceiling.
An architectural jewel that plays with volumes, verticality and natural light. Undoubtedly, an architectural work worth visiting. Designed by the b720 Arquitectes studio.
Like all transgressive architecture, breaking with the parameters of traditionality generates great detractors and defenders. However, what is impepinable, is that it does not leave indifferent.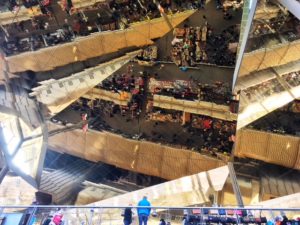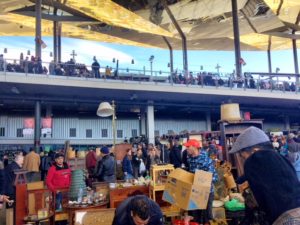 Els encants market has more than 200 stops where you can find antiques and collectibles, footwear, jewelry, household items, old and used clothing, crafts and wrought iron, appliances, electrical equipment, perfumery and cosmetics, awnings and clothing, items for pets, hardware and machinery, new furniture and decoration, spare parts and accessories, textiles and fashion, toys, stationery and crafts, remains and liquidations.
Take a walk to the market and go up the ramps, when you are already undone of walking let yourself be seduced by the food stops at the top. Eat fish, beers or tapas with an unparalleled view of the city.
The market opens from 9 a.m. to 8 p.m. every Monday, Wednesday, Friday and Saturday of the week.
More details on the website of "Els encants"
Address
Carrer de los Castillejos, 158, 08013.
How to get into Els Encants
Metro: L1 (red) estación Glories, L2 (violet) Els Encants.
Bus: 8,33,34,43,51,54,56,62,92 y 544.
Tram: line T1 (Glòries, líne T5 Glòries y La Farinera.
Madrid Flea-Market
El Rastro
El Rastro is the oldest and best known open-air flea market in Madrid. It is a large market that, instead of concentrating on a single plaza or avenue, has a winding route that stretches along wide streets and alleys in the neighborhood of Embajadores and La Latina.
El Rastro is a flea market where you can find everyday objects, curiosities, vintage clothing, young designer clothes, crafts, antiques and very kitsch objects.
The main axis of the market is the Ribera de Curtidores street, bordering the Plaza de Cascorro to the north and Plaza del Campillo del Mundo Nuevo to the south.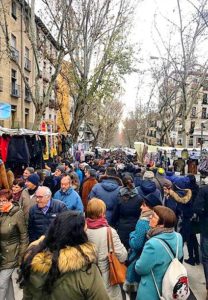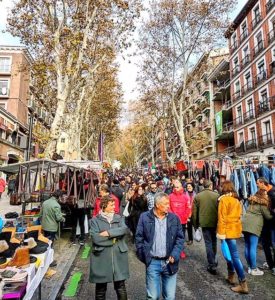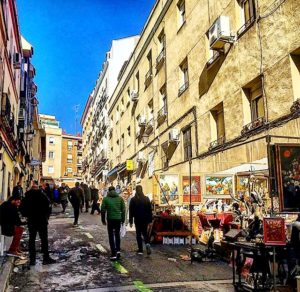 It is a very lively market that brings together locals and tourists wanting to spend an entertaining morning, to be surprised by its atmosphere and its people. It is best to go predisposed to walk slowly and calmly, without stress. For this it is best to take it easy, walk and stop from time to time in a tavern and / or tasca to taste some tapas of Madrid cuisine accompanied by a flat wine or a beer can.
The Madrid Fleamarket El Rastro  is held every Sunday and holidays from 9am to 3pm .
How to get into El Rastro:
Metro: La Latina, line 5; Embajadores, line 3.
Hostaliners we recommend that you take care of your belongings when you visit any of the two markets. Put the bags and backpacks in the front, avoid pickpockets take advantage of your distraction.
Get ready to enjoy the best outdoor markets and fleamarkets in Madrid and Barcelona!